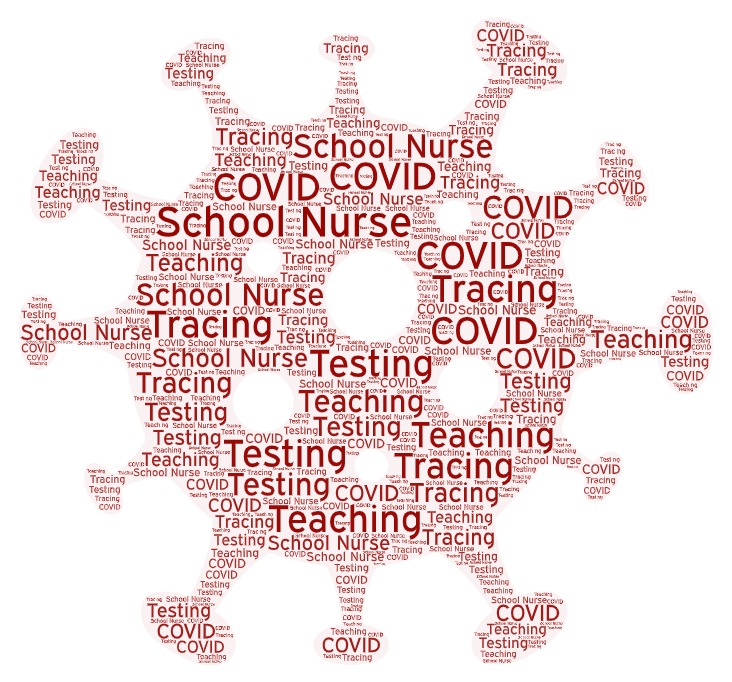 That giant COVID ball you're now juggling along with your usual school nursing practice balls? It's made up of several not so small balls, including Teaching, Tracing, and Testing. We hear the challenges of School Nurses juggling with this new outsized ball called COVID.
Teaching
All of you are teaching students, families, staff about ways to reduce COVID transmission. Our school nurse colleague Robin Cogan calls these measures the 6 W's. Most of you are also teaching about what it means to quarantine to those who've been identified as close contacts to a COVID positive individual in your school community. Whether you are new to teaching strategies or a seasoned classroom educator on health topics, the urgency for sharing facts effectively about what we can do for individual and community health and safety during this pandemic is clear. People need to demonstrate new skills to slow the spread of COVID, and you are helping them change behavior. How exciting is that!
Check out these programs to learn more about general strategies for teaching effectively and how school nurses are teaching health during COVID.
Tracing
Who identifies the close contacts? In many communities, you are the ones contact tracing with your local or regional board of health officials. Our colleague Elizabeth (Liz) Flaherty made the case for this role for school nurses in her article published in the November issue of NASN School Nurse. We hear that you are making and taking phone calls to alert, teach and follow-up with individuals 7 days/week. This is a pace that is not compatible long-term with your wellbeing and effectiveness – a topic for another blog! We know you have been key to keeping in-school COVID transmission low.
Check out this tracing program to learn how school nurses are identifying close contacts and collaborating with local boards of health during COVID.
Testing
You've been key to testing efforts, too! Whether you're referring students to testing sites, coordinating PCR or antigen tests in your schools, or actually administering the tests yourself, you demonstrate your essential role in the public health/health care systems. Though colleagues in your education system may not express appreciation for your work, your efforts are noticed by education leaders and journalists. A google alert feature shows a huge increase in schools nurses identified in related publications across the country. For example, Education Week, a well-respected news outlet for K-12 schools, featured in-depth interviews last summer with two school nurses who talk about their efforts to reduce COVID transmission.
Check out these programs to learn more about general strategies for testing effectively and BINAX testing – the science and how school nurses are planning and implementing in schools.
Our society needs school nurses to keep sharing experiences with COVID Teaching, Tracing, and Testing to better support your efforts to keep schools a safe and healthy place for learning. Thank you for describing the data and telling your stories!