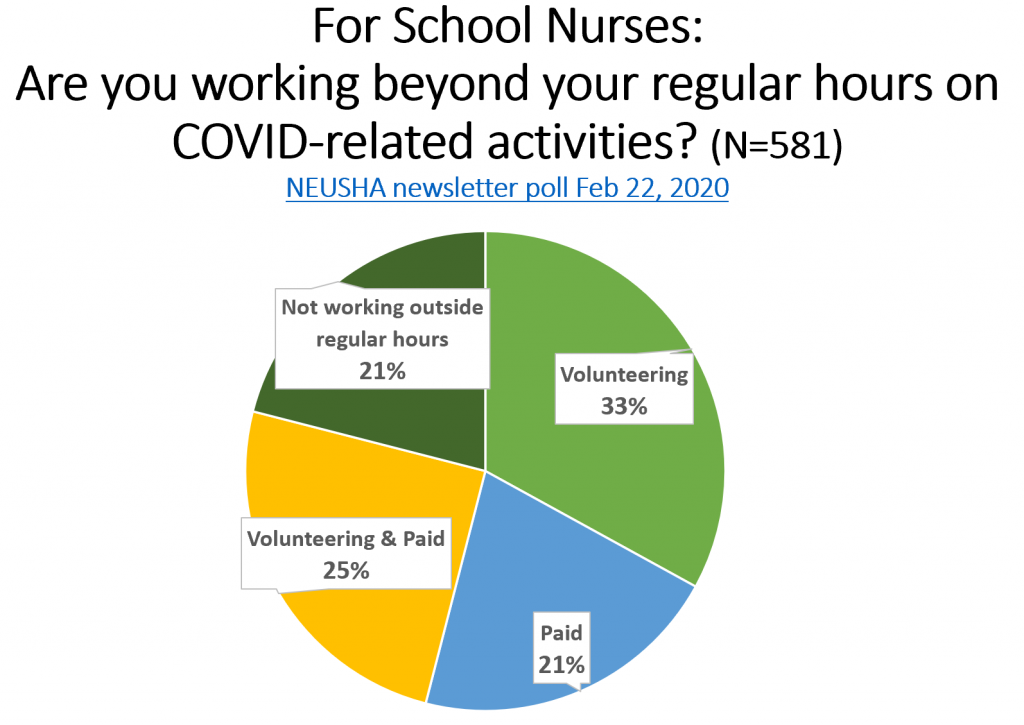 As a nurse of 39 years, I have often asked this question of myself and of my nurse colleagues. We know when there is a crisis, we will step up to do what is within our professional scope of practice. Nurses gladly volunteer their expertise often, serving on professional boards, school boards, volunteering in our schools and communities and often with their own families. Many nurses volunteer with international medical groups to assist people in other countries and their work is incredible. Let's agree that volunteering should be the professional's choice, NOT an expectation.
So why do I ask the question?
During H1N1, the need to volunteer to vaccinate our communities was vital, and nurses stepped up to assist. I worked acute care for 20 years and now have been in the school health specialty for 20 years and I still don't understand why, especially with this pandemic, every school in this country has not realized that a Registered Nurse is necessary for every school (youth and faculty/staff). I don't mean moms/dads volunteering to help, I mean a dedicated RN to assist with surveillance, education, contact tracing, testing and eventually vaccination of those in our community. I came into the School Nursing specialty in 1999 and was surprised at how many times the school nurses were asked to volunteer their professional knowledge and time (school activities, town activities) on a moment's notice and some were shocked that the nurses weren't automatically available. With appropriate notice given, we would be available, but not the day of or day before.
What is different about the COVID-19 crisis?
It is clear after 12 months we are running a marathon not a sprint. I have watched school nurses in educational settings work many additional hours especially undertaking school and community contact tracing, without compensation. All of this work that is done during the evening hours and on weekends should come with compensation. These school nurses have worked since March 2020, attended many school planning meetings during their "off time", done presentations to school boards and faculty on the ever-changing COVID-19 guidelines. The hours for contact tracing they have done is astonishing! I have volunteered for 5 clinics so far and have loved being a professional part of the solution to this pandemic. Yet, as I have watched my school health colleagues provide hours and hours of personal time to this crisis, I wondered, "Are they being compensated?". The answer has been mostly "NO", it is just expected that you make and take calls at all hours including evenings and weekends. Some districts or local Boards of Health are compensating their nurses for all of these additional hours. I commend them for recognizing much of this work is over and above their normal duties/hours. Police officers and EMS are compensated for their additional hours worked, yet the nurses are always asked to volunteer.
It should be a choice!
We know that nurses will volunteer, it is in our character to step up in a crisis. However, this crisis has lasted almost a year and will continue for some time. Volunteering should be the professional's choice, not just an expectation. School Nurses advocate for their students and quality health services: check out the NASN 21st Century Framework for School Nursing Practice. Listen to two School Nurse Leaders describe how they advocate: New Jersey School Nurse Robin Cogan and Former Director of MDPH School Health Services Anne Sheetz. Choose to advocate for yourself and your colleagues!