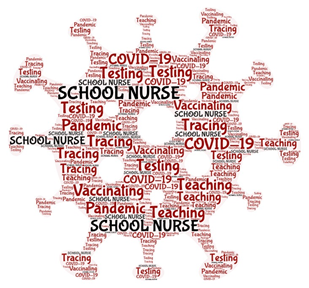 Six months ago, Kathy and I described in this blog how school nurses were juggling teaching, tracing, and testing responsibilities in schools. We shared links to resources from our colleagues, including blog posts by NJ School Nurse Robin Cogan in NJ and a NASN School Nurse article by MA School Nurse Liz Flaherty. We encouraged you to learn with us about how to manage this pandemic in schools in our NEUSHA live and recorded educational programs.
Recently, I updated the School Nurse COVID Ball to include Vaccinating after Liz Pray in WA and Nurse Jenny in CA ecouraged me in their Twitter posts. I also changed the color of the word School Nurse to black to celebrate diversity and highlight your professional contributions during the pandemic. We are thrilled that Liz is using the updated image for her state affiliate Twitter account! Others are asking for t-shirts and mugs with this image! We will have these "keepsakes" available for purchase soon and will share updates in our weekly newsletter. You can sign up for our newsletter here.
Wishing you a most relaxing summer with a break as you can find it from the Teaching, Tracing, Testing and Vaccinating!
Jenny Gormley & Kathy Hassey