What if They Can't Tell Us: Pain Assessment for Students with Intellectual and Developmental Disabilities
Click here to REGISTER NOW
Overview:
Brenna Quinn, PhD
, RN, NCSN discusses Pain Assessment strategies
for school nurses who work with students with intellectual and
developmental disabilities. She provides assessment tools and methods
that are appropriate to use. She utilizes case studies to explain tools.
Cost:
$25.00
Contact Hours
1.5
Objectives:
1. Understand the prevalence and occurrence of pain in the population of students with Individualized Intellectual and Developmental Disabilities (IDDs).
2. List three ways in which students with IDDs display pain that is different than ways in which neurotypical students may display pain.
3. Name seven methods of pain assessment that may be helpful in the school setting.
4. Identify three methods of pain assessment most helpful for the population of students with IDDs.
Presenter: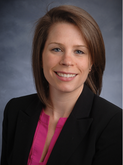 Dr. Quinn is an assistant professor in the School of Nursing, College of Health Sciences at the University of Massachusetts Lowell.
She has conducted both team and independent research related to pain assessment in children, and teaches undergraduate pharmacology and community health courses.
Dr. Quinn currently provides direct nursing care to children with intellectual disabilities (ID) and complex medical needs on a part-time basis outside of her duties as a faculty member.