Diversity, Equity and Inclusion (DEI) Panel for School Nurses
Click here to REGISTER NOW
Overview:
Dr. Kate King discusses the work of the NASN DEI Task Force and panelists Brianna Cormos, school nurse, and Brenda Lormil, FNP-C, Founder of HAMA discuss DEI in the school, hospital and community settings. This presentation was given at the School Nurse International Conference in Boston, July 19, 2023.
Cost:
$ 30.00
Contact Hours
1.5
Objectives:
After viewing the presentation, the participant will be able to
1) Identify priorities of Diversity, Equity, and Inclusion (DEI) in School Nursing.
2) Describe at least 2 ways to evaluate DEI in your organization, district, school or practice.
Presenter:
Kate King, DNP, MS, RN, LSN
Dr. King is the President of the National Association of School Nurses (NASN). She is currently a School Nurse at World Language Middle School for Columbus City Schools, the largest school district in the state of Ohio. Her background includes specialty areas of community health and adolescent psychiatric nursing and school health legislation. She has been active in her regional and state School Nurse Associations. Dr. King has served as the Chair of the NASN DEI Task Force for the past two years culminating in formal recommendations for the ongoing work of DEI to NASN approved by the board of directors. Her doctoral work focused on Creating Voice in School Nurses through Increasing Self Efficacy. Dr. King is passionate about providing equitable health care for children in schools through collaboration, evidence-based practice and providing school nurses with the support and tools to serve as health care experts.


Brianna Cormos, MEd, BSN, RN
Ms. Cormos found her passion within school health and has been practicing as a school nurse since 2013. She was a member of a COVID-19 District Nurse Planning Team and assisted the Board of Health with vaccination efforts. Brianna is also a member of the Northeastern University School Health Academy (NEUSHA) Advisory Group and completed the NEUSHA Leadership Series program in 2020. Currently, Ms. Cormos is a member of her district's Black, Indigenous, People of Color (BIPOC) organization and promotes equity through her work. As a health services instructional technology (IT) facilitator, she is managing her district's health services website and piloting a paperless health clinic. Ms. Cormos continues to be enthusiastic about the future of school health and is dedicated to providing the best care possible to the members of her school community. Her past experience includes community health, home health, nursing informatics, camp nursing and school nursing.
Brenda Lormil, MSN, FNP-C
Ms. Lormil currently serves as the Equity Nurse Practitioner at the Massachusetts General Hospital Cancer Center in Boston MA. In her role she spends parts of her clinical hours providing patient-centered care to patients who are actively receiving treatment on a Phase 1 Clinical Trial. Her role also provides the unique opportunity to work alongside colleagues and other passionate members of the MGH community to find sustainable solutions to equitable access and quality delivery of care to some of the most vulnerable populations affected by cancer. Ms. Lormil's devotion to improving access to care has allowed her work to stretch beyond the walls of MGH. Raised by two Haitian immigrants, Ms. Lormil has personally witnessed the many challenges immigrant populations face when attempting to navigating our complex healthcare system. As the Founder of the Haitian American Medical Association (HAMA), Ms. Lormil and her team are on a mission to provide culturally specific health education through strategic and innovative delivery – with a goal to improve the health literacy and health outcomes of the Haitian community. Since its launch in 2017, HAMA has impacted over 3,000+ Haitian individuals and families through health education workshops, community events, and yearly academic scholarship opportunities. The HAMA team is comprised of 42 volunteers across 5+ states. Of her many hats, Ms. Lormil thoroughly enjoys her role as lead consultant of VDI Consulting. This platform has allowed her to compile her 2+ decades of experience and skill sets to support companies, organizations, and individuals with projects that mainly focus on improving health care diversity, delivery, and access. Ms. Lormil is an alumnus of Regis College in Weston, MA where she obtained her Bachelor of Science degree in Nursing in 2011, and her Master of Science in Nursing in 2015. She partnered with Northeastern University School Health Academy Directors Gormley and Hassey to present a poster, Continuing nursing education for Haitian immigrant student health and family communication: A quality improvement project, at the 2019 School Nurse International Conference in Stockholm, Sweden.
Presenter Disclosure Statement:
None of the planners or presenters for this educational activity have relevant financial relationship(s) to disclose with ineligible companies whose primary business is producing, marketing, selling, re-selling, or distributing healthcare products used by or on patients.
Continuing Education Information:
Northeastern University School of Nursing is accredited as a provider of nursing continuing professional development by the American Nurse Credentialing Center's Commission on Accreditation.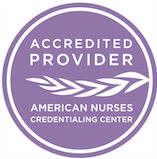 Department of Elementary and Secondary Education Provider Number 2016U018

Participants successfully completing this program will receive a statement of credit for contact hours. Statements of Credit may be printed on-line after successful completion of the learning assessment.